Important information
TECHNICAL DESIGN AND MATERIAL COMPOSITION
Our epitaph product's frame is made of stainless steel or iron and it is also zinced. A high-pressure laminate is then bolted to the frame using stainless bolts. This laminate is resistant against all weather conditions, including wetness. A hardened, safety Planibel type glass is then glued to this laminate. Depending on the specific type of the epitaph product, we use different glass thickness: 6, 8, 10, 12 millimeters. The glass is firm, walkable, resistant to breaking, damaging or scratching.
DIMENSIONS AND SHAPES
We manufacture our epitaph products according to the dimensions requested by our customer. We can also create atypical shapes according to the customer's suggestions. It is necessary to consult with one of our technical experts before a project can be realized, to ensure it is within our technical capabilities.
Examples of our epitaph products' standard sizes:
Width x height x depth (millimeters)
GRAVES WITH A GRAVESTONE PLAQUE
400 x 600 x 160 mm
700 x 1000 x 160 mm
1000 x 1000 x 160 mm
1200 x 1200 x 160 mm
1000 x 2000 x 160 mm
GRAVES WITHOUT A GRAVESTONE PLAQUE
300 x 300 x 160 mm
400 x 600 x 160 mm
700 x 1000 x 160 mm
1000 x 1000 x 160 mm
1200 x 1200 x 160 mm
1000 x 2000 x 160 mm
GRAVESTONE PLAQUES
400 x 600 x 12mm
700 x 880 x 12 mm
1000 x 880 x 12 mm
1200 x 980 x 12 mm
1000 x 980 x 12 mm

A gravestone plaque is not an essential part of a standard grave.
GRAPHICAL DESIGN AND GLASS PRINTING
We offer countless themes for our epitaph products. You may choose from many different colors, motives, writing styles and favorite verses. It is possible to attach a picture of the deceased person or a picture of their favorite place (a cabin, a sea, mountains etc.) to the gravestone plaque. Additional pictures can also be chosen from our photobank at www.shutterstock.com.
GLASS PRINTING
Glass printing is done using a digital printing machine, which applies inorganic ceramic ink to the glass with extreme precision, which then becomes an inseparable part of the glass after the glass is harden at 700° Celsius. This printing method allows a resolution of up to 800 DPI, which can be modified further. The resulting product is a highly resistant glass plaque with a printed text which is equally resistant to UV light, scratching and weather conditions.
We offer a lifetime warranty for the quality and persistence of the printed colors.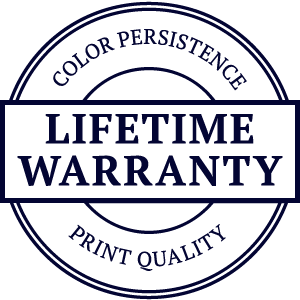 GRAPHICAL MATERIALS
Any pictures provided by the customer must have a resolution of at least 200 DPI = Dot per inch. The standard used to measure screen and printer resolution, expressed as the number of dots that a device can display or print per linear inch. The greater the number of dots per inch, the better the resolution.DPI. This is an important factor, which can affect the quality and sharpness of the motive when enlarged. As a rule of thumb – the higher the picture resolution, the higher the resulting quality.
The graphical design is FREE OF CHARGE (2 design motives included in the price, with any additional for 1000 CZK per motive, excluding VAT) or we can use the customer's own design if it follows the requested specifications.
SAMPLING METHOD
Our customer typically receives a visualization (our proposition of the print design), which can be viewed using the customer's own device, such as a PC monitor, a tablet or a smartphone. Because each device displays colors in a slightly different way, it is possible that the actual printed color of the end-product may vary slightly from the sample viewed on a computer. The final color of the product can also be influenced by the manufacturing process, the color of the glass or by the lighting of the surrounding area.
If our customer requires a precise sample of the color and printing quality using the same type of glass as the one requested for the entire order, we can manufacture one up to the size of an A4 paper. Creating such a sample takes approximately 3–4 weeks. The manufacturing fee for such sample is 605 CZK including VAT.
If the customer requests a sample purely for the purpose of seeing the quality of the printed text (text resolution), it is possible to create a sample using a standard 6mm thick glass. In that case the sample can be delivered within 2 weeks. The price of this sample is 605 CZK including VAT.
FINISHED SAMPLES
In case you want to speed up the process of creating a design for your epitaph product, we offer a selection of predetermined graphical designs to choose from, where we only need to change parts of the text containing personal information.
You may choose from the following selection: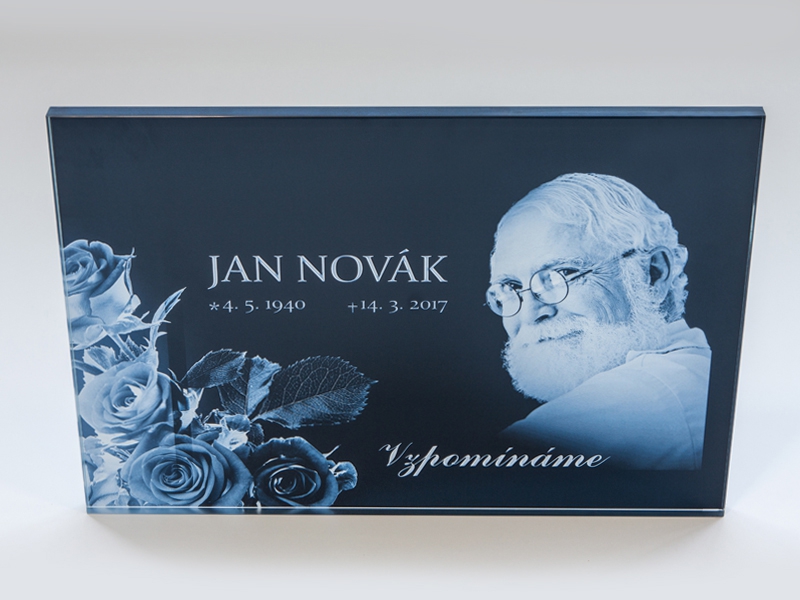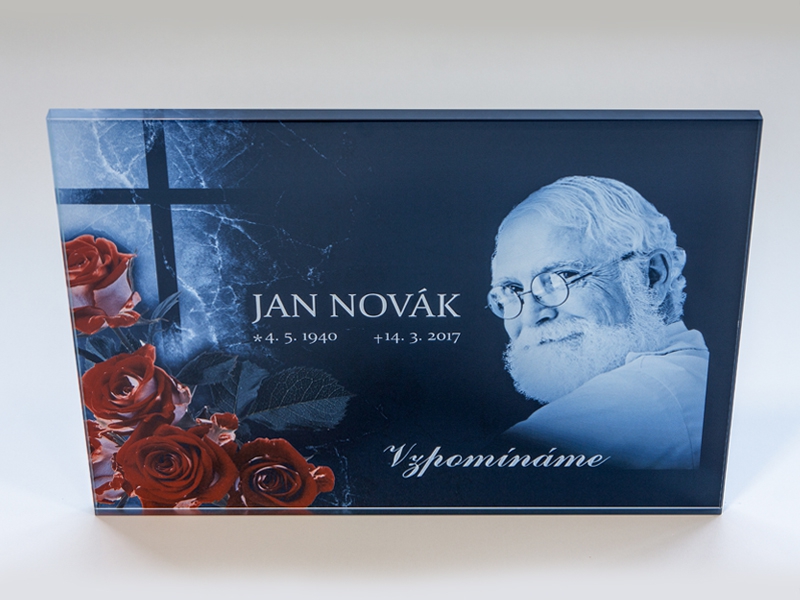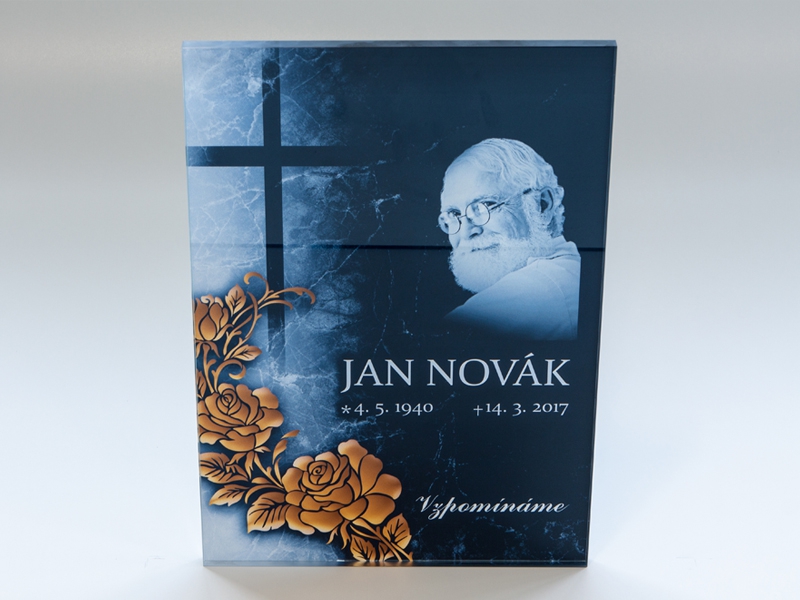 PAYMENT METHOD
After the specific parameters of your order have been approved by you, we will send you a pro-forma invoice for 80% of the total cost to your e-mail. After we receive the payment, we will send a proof of payment to your e-mail address and we will begin processing your order.
After the order has been finished and delivered, we will send you an invoice for the remaining 20% of the total price.
Bank account number for payments in the Czech Republic or Slovakia:
Account number: 115-8367500227/0100
IBAN: CZ2001000001158367500227
SWIFT: KOMBCZPPXXX
This account is kept by the KB bank in Czech currency, in case of paying from abroad using a different currency, an additional transaction fee will be charged. It is necessary to use a variable symbol listed on the invoice received. After making a payment, it is usually received by us in 1-2 workdays.
DELIVERY DATE
We usually deliver the epitaph product in approximately 3–4 weeks after the order has been received, approved by the customer and the invoice has been paid. In case of a classical or urn-based grave, the delivery date is approximately 8 weeks.
PACKAGING AND DELIVERY COST
Everything is thoroughly packaged in a wooden box, which is then secured to a wooden pallet in a way that prevents the product from being damaged during transportation. The cost of packaging is 990 CZK excluding VAT.
The packaging cost is charged separately from the product itself, based on the nature of the product and the price list of the carrier. The price also includes a warranty in case the package is damaged during transportation. The delivery is either done by our company or using the TOPTRANS transport company.
ASSEMBLING
The assembly is done by our team of experienced technicians.
The price of assembling the product starts at 1980 CZK excluding VAT + the transportation cost of our vehicle, which is based on the distance travelled to the assembly site. The date of assembly can be arranged with one of our technicians after the order has been completed, typically between 7am – 5pm on workdays or per agreement.

In case you want to save some expenses, you can assemble the epitaph product by yourself using our detailed instruction manual. The grave itself can be anchored to the ground using concrete or special stainless-steel pegs (already included) which are placed directly into the ground.
The assembly price does not include:
– a concrete foundation (not provided by us)
– ground levelling
– graveyard entry permit
– grave construction permit and other documentation required by the graveyard management
– a power generator (in case the graveyard does not provide us with energy)
MAINTANANCE
Maintaining our epitaph products is easy and quick. Much like with other glass surfaces, all you need is a standard detergent suitable for cleaning glass.
INSURANCE
We recommend insuring our glass grave against vandalism, weather conditions and other dangers. This insurance is provided by Generali Czech insurance company.
FROM AN OLD GRANITE GRAVE TO A NEW GLASS GRAVE
It is possible to attach a special made safety glass to an old granite grave by either gluing it onto it or by attaching it using fixed lugs or a U profile. This way we can create a new glass grave based on your requirements. If you are interested, please consult one of our technicians.